This comprehensive guide will help you navigate through the complexities of home-based palliative care, offering tips and strategies to ensure you deliver the best care possible to your patients and their families.
Benefits of Palliative Home Care:
Palliative care at home has numerous benefits, including improved pain and symptom management, increased patient and family satisfaction, and reduced healthcare costs. Research shows that patients who receive palliative care experience less pain, less nausea, breathe easier, and have better emotional health. It can also help caregivers manage the stress and challenges associated with caring for a seriously ill senior.
How Does Palliative Care Work?
Palliative care is delivered by a team of specially trained health professionals, usually led by a doctor and including nurses, caregivers/PSWs, and other health providers. This team works in collaboration with the patient's primary healthcare team to provide extra support and care. The palliative care team takes a holistic approach, focusing not just on the patient's physical symptoms, but also their emotional and spiritual needs.
Palliative Care at Home vs. Hospital: What's The Difference?
Palliative care can be provided in various settings, including hospitals, outpatient clinics, nursing homes, and at home. Home-based palliative care is often preferred as it allows patients to receive care in the comfort of their own homes, surrounded by familiar surroundings and seniors. In-home palliative care services typically mirror those available in hospital settings, with the added benefit of personalized and comfortable care.
The Role of PSW in Palliative Care:
As a PSW, you play a crucial role in the delivery of palliative care at home. You may be responsible for assisting with personal care tasks, managing medications, preparing meals, and providing emotional support. The role of PSW in palliative care also involves coordinating with the care team and advocating for the patient's needs and wishes.
Key Services Included in Palliative Home Care:
In-home palliative care typically includes a range of services designed to improve the patient's quality of life, such as:
Medication Management: Ensuring the patient's medications are correctly administered to manage symptoms and pain.
Specialized Therapies: This may include physical therapy, occupational therapy, or speech therapy, depending on the patient's needs.
Symptom Monitoring: Regularly assessing the patient's symptoms and reporting changes to the palliative care team.
Emotional Support: Providing emotional support and companionship to the patient and their family.
Coordination of Care: Collaborating with the patient's healthcare team to ensure seamless care delivery.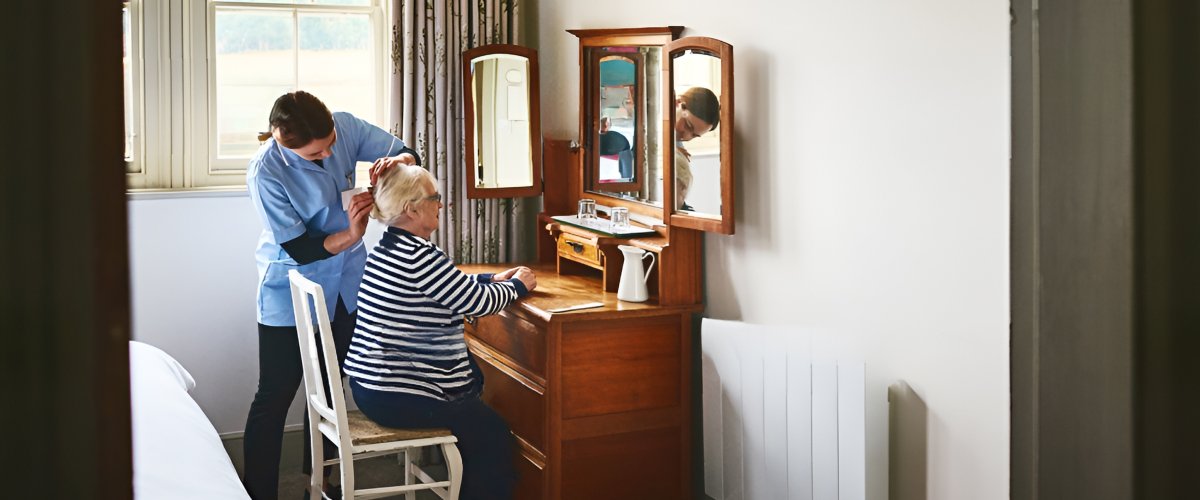 When to Start Palliative Care?
Palliative care can be started at any stage of a serious illness, and it's often beneficial to start as early as possible. Early palliative care can make it easier for the patient's wishes to be followed, reduce stress, boost confidence in medical decision-making, and support the emotional and spiritual wellness of patients and their families.
How to Start Palliative Care at Home?
The process usually begins with a referral from the patient's primary care doctor or specialist. After the referral, a palliative care team will assess the patient's needs and develop a personalized care plan. As a PSW, you'll work closely with this team to implement the care plan at home.
Read More: 5 Stages of Palliative Care at Home
10 Tips for PSWs Providing Palliative Care at Home
1. Prioritize Communication: Regularly communicate with the patient, their family, and the palliative care team to ensure everyone is on the same page.
2. Focus on Comfort: Make the patient's comfort your top priority. This includes managing pain, ensuring a comfortable environment, and providing emotional support.
3. Respect the Patient's Wishes: Always respect the patient's wishes and decisions regarding their care, even if you don't personally agree with them.
4. Stay Organized: Keep track of medications, appointments, and care tasks to ensure nothing gets overlooked.
5. Take Care of Yourself: Self-care is crucial. Make sure to take breaks, eat healthily, and seek support when you need it.
6. Seek Out Resources: Use resources available to you, such as support groups, educational materials, and professional development opportunities.
7. Be Patient: Palliative care can be challenging and emotionally draining. Be patient with yourself, the patient, and their family.
8. Practice Empathy: Try to understand the patient's feelings and experiences to provide the best care possible.
9. Stay Positive: A positive attitude can go a long way in providing comfort and reassurance to the patient.
10. Be Flexible: The patient's needs and condition may change over time. Be flexible and adaptable to meet their changing needs.
Conclusion:
In conclusion, providing palliative care at home as a PSW can be a rewarding but challenging experience. By understanding the key aspects of palliative care, staying organized, and practicing empathy and patience, you can provide the best care possible to your patients and their families.
Read More: Importance of Empathy in Healthcare & Caregiving
Want to learn more?
Reach us at wecare@considracare.com, or call us at 1-855-410-7971, and we will be happy to assist. Discover more tips in our information booklets or on our resources page.
FAQ's:
1. How can a PSW integrate a palliative approach into care?
A PSW (Personal Support Worker) can integrate a palliative approach into care by focusing on comfort, pain management, and emotional support. They should communicate effectively, ensure dignity, and involve the client's family in decision-making.
Read More: Why are Good Communication Skills in Healthcare Important for PSWs?
2. What is the role of PSW in palliative care?
The role of a PSW in client care includes providing personal care (bathing, dressing), assisting with mobility, administering medications, monitoring vital signs, and offering emotional support and companionship.
3. What are the basic concepts of supportive and palliative care?
Basic concepts of supportive and palliative care include enhancing quality of life, managing symptoms, addressing emotional needs, providing holistic care, and respecting the client's goals and values.
4. What are 2 principles of palliative care?
Two principles of palliative care are relieving suffering through pain and symptom management and improving the quality of life by addressing psychological, social, and spiritual aspects of care.
5. What is palliative care pathway?
A palliative care pathway is a structured plan that outlines the care and treatment for individuals with life-limiting illnesses. It guides healthcare professionals in providing appropriate and consistent care to manage symptoms and improve a patient's comfort and quality of life.